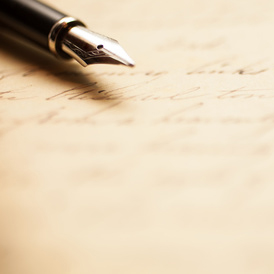 My vocation as a registered nurse required the writing of standard operating practices.  I had no problem with writing step by step procedures.  I wrote how to perform minor surgeries, sigmoidoscopies, catherizations, cardio-pulmonary resuscitation and the like.  The thought of writing a short story, poetry or a novel didn't occur to me.
I was shocked when my husband after ten years of marriage with no prior warning asked for a divorce.  For two and one half years I managed to go to work and return home like a robot.  My attorney insisted I not move out of our house.  If I left it would indicate to the judge I had no interest in the property at the divorce hearing.  My geese, chickens, ducks, and dogs were part of my life. There was the routine of collecting eggs in the morning, feeding and watering my pets before and after work.  My husband worked the evening shift and I was free to roam our property in the evenings.  I admired the old fashioned pens that resembled a western movie set, rows of fir trees we had planted, the natural stone wall, the antique cars and the five car garage my husband built.  And, on the inside of our house was a re-modeled kitchen to die for:  A pot-bellied stove with brick work to the ceiling, new above and below modern built-in ovens at my height to bake turkeys and pies at the same time at different degrees. The antique chandeliers, wind up telephones, antique furniture, and the hand- picked pictures of Pennsylvania covered bridges inserted above the newly tiled kitchen counters.  How could I leave  this?
In order to divert my mind from the losses I was experiencing I enrolled in a graduate evening course at UCLA to study fiction writing.  My thought was to write what I was going through, but I needed to know how.  For two quarters I traveled over 60 miles each way in the evening after work.  My thoughts focused first on my dear mother and how she was betrayed by her husband.  This was the beginning of my writing and releasing my novel  A Marked Woman.